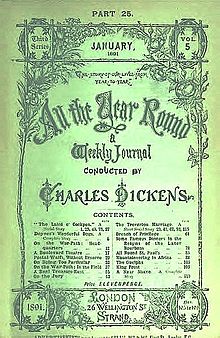 Wilkie Collins's The Woman in White was serialized in 20 parts in All the Year Round between November, 1859 and April, 1860.  Collins's novel first appears in Series 1, Volume II, Magazine No. 31, on November 26, 1859.
Our "Gateway to Novels in the 1859-1861 Stack" page links to the DOJ.org facsimile, and the same page delineates each installment under Parts by Month and Year.  Full issues of All the Year Round are also available at Hathi Trust Archive.org, which we have linked below.
HATHI TRUST
Hathi Trust's catalog for All the Year Round contains multiple institutions' uploads of the same volumes of the magazine. Below are listed Hathi Trust's links that contain uploads of Vol. II, which contains The Woman in White's serialized parts (November 1859-April 1860).