ILLUSTRATIONS FOR THE WOMAN IN WHITE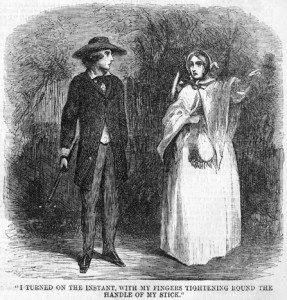 The original publication of The Woman in White in All the Year Round did not include illustrations.  However, the novel was also published concurrently in the American magazine Harper's Weekly.  The Harper's serialization did include illustrations by John McLenan, which are linked below.
The original English three-volume book (1860) also did not include illustrations.  The 1861 English one-volume book included illustrations by John Gilbert, but only the frontispiece, below, seems to be available online.
Page Resources: "The Woman in White – A Chronological Study" from The Wilkie Collins Society
1859-1860 HARPER'S WEEKLY (U.S.)
1860 AMERICAN ONE-VOLUME BOOK
The 1860 American release of The Woman in White in novel form also included John McLenan's illustrations. The entire text can be found at Archive.org.
1861 ENGLISH ONE-VOLUME BOOK